Language Houses
---
Haskell House and Elbert House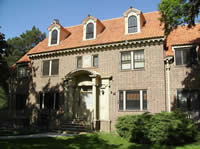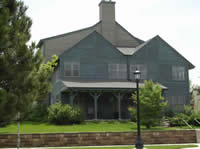 Haskell House is the French Language immersion house, and Elbert House is the Italian Language immersion house. Each serves as a residence for 13 - 20 students interested in improving their understanding of both language and culture. The houses have a full kitchen and living room; in addition, Haskell House has a piano and fireplace. Events are organized by the Cultural Program Coordinators in liaison with the French and Italian Department.
Language House Cultural Program Coordinators (CPCs) are staff members who live in a language house. In addition to teaching adjunct language courses, CPCs strive to create a sense of community within their houses and provide an opportunity for the students living in the houses to be immersed in the language and culture. The CPCs plan cultural as well as community-building programs.
For French House activities: https://www.facebook.com/groups/2061176514211913/
For Italian House activities: https://www.facebook.com/groups/358468214363006/
For more information in International programming, see the Center for Global Education & Field Study page.
---
---
Cultural Program Coordinators
---
Diana Battistella


Cultural Program Coordinator of the Italian Language House

Country of Origin: Italy
2018-2019 academic year
Ciao!

My name is Diana and I grew up in a small village in the North of Italy, near the beautiful Venice.

I moved to Padua in order to study in its university, one of the most ancient in the world. Since my interests have always been in linguistics and cultural sensitivity, I graduated in Modern Languages at the University of Padua, also participating to the Erasmus+ exchange program with the University of Barcelona, in Spain.
My teaching experience started last year as a teacher of Italian as a Second Language in a high school in Madrid, Spain. I also home tutored high school and university-level students both in Spanish and Italian. I believe learning a language is more than memorizing a set of grammar rules: it should be a fun and life-changing opportunity that opens up our minds to new horizons. I am staying at Elbert House, the Italian language house, so I hope we can meet up for an espresso, some biscotti and a chat! Also, join our events, where learning Italian and about Italian culture goes along with food, fun and friends.
I look forward to sharing my culture and language with you and, of course, meeting you, CC students!
Contact Diana: d_battistella@coloradocollege.edu
Office: Armstrong Hall Room 323, x6924
Office Hours:
---
Mathilde Bégu
Cultural Program Coordinator of the French Language House
Country of Origin: France
2018-2019 Academic Year
Bonjour !
My name is Mathilde Bégu, I am 24 and I was born in Bordeaux, a city located in the south west of France, on the Atlantic coast.
After travelling to New Caledonia as a child, Norway as a student and New Jersey as a young adult, I worked a year in Oregon in a french immersion school. Travelling the world is my passion, and I love being immersed in new cultures, and meeting new people!
I love teaching my beautiful language and culture to others. I am now certified to teach french as a foreign language, and am looking forward to develop the french culture on campus and to organize fun and interesting events for students at Colorado College.
As Charlemagne once said, « Avoir une autre langue, c'est posséder une deuxième âme » (to have another language is to possess a second soul).
You like croissants, crepes and listening to Edith Piaf? So do I, but France is much more than that! I am looking forward to guide you through the discovery of my fascinating country and language, in an authentic way, and in a friendly and fun environment.
À bientôt !
Mathilde
Contact: mbegu@coloradocollege.edu
Office: Armstrong Hall Room 323, x 6924
Office Hours:
This is the Department of French and Italian
Browse all Departments & Programs
​