Language Houses
---
Haskell House and Elbert House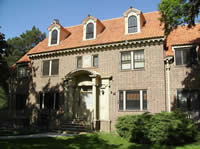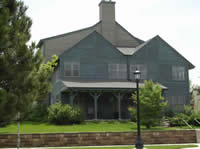 Haskell House is the French Language immersion house, and Elbert House is the Italian and Arabic Languages immersion house. Each serves as a residence for 13 - 20 students interested in improving their understanding of both language and culture. The houses have a full kitchen and living room; in addition, Haskell House has a piano and fireplace. Events are organized by the Cultural Program Coordinators in liaison with the French, Italian & Arabic Department.
Language House Cultural Program Coordinators (CPCs) are staff members who live in a language house with 12-25 students. In addition to teaching adjunct language courses, CPCs strive to create a sense of community within their houses and provide an opportunity for the students living in the houses to be immersed in the language and culture. The CPCs plan cultural as well as community-building programs.
For more information in International programming, see the Colorado College International Education page.
---
---
Cultural Program Coordinators
---
Dario Sponchiado
Cultural Program Coordinator of the Italian Language House
Country of Origin: Italy
2013/2014 academic year
Milan State University, Masters program in Promotion and teaching of Italian language and culture for foreigners.
Master in Publishing and Editing, Institute Newpeople.Team in Milan.
Biotechnologies degree, Milan State University.

A Note from Dario:
Ciao everybody, I'm thrilled to be part of this crew! I love to travel, learn new languages, teach Italian and share my culture!
Italian is the closest language to Latin which is a fundamental component of English. So learning Italian means understanding better your language.
Any examples?
You are at the university, maybe you have joined a sorority or fraternity, you sing in a chorus as a soprano, or you chant an allegretto piece a cappella. In a cafeteria you find some loquacious lunatic and you say: abracadabra! I dig your personality, but bravo, I am incognito and gotta run home for my vespertine linguine.
Do you want to add Italian to your Curriculum Vitae? Carpe Diem! Join Italian at CC.
Contact Dario: Dario.Sponchiado@coloradocollege.edu
Office: Armstrong Hall Room 323, x6924
Office Hours: Tuesday/Thursday 1:30 - 2:30
---
Diara Khoureichy Dia
Cultural Program Coordinator of the French Language House
Country of Origin: Senegal
2013/2014 academic year
Hi, I am Diara. I was born in Dakar, Senegal. I have two brothers.
I am a multi-task person. I like organizing parties. In my free time I enjoy listening to music, dancing and sports (Taekwondo).
At 17, I graduated from high school. I got my master's degree in management and computer science last year from the University of Saint Louis Gason Berger.
French is the official language of Senegal but there are many other languages. I speak five languages. Icome from a family with different cultural backgrounds.
I am ready to share and help you know more about Senegalese cultures and melting pot. I am very happy to be the new Cultural Program Coordinator and I will do my best to contribute to the success of Colorado College.
Contact Diara: Diara.KhoureickyDia@coloradocollege.edu
Office: Armstrong Hall Room 324, x 6626
Office Hours:
---

Wejdan Zlitni
FLTA for Arabic
Country of Origin: Libya
2013/2014 academic year
My name is Wejdan, I was born in 1990 in a beautiful city called Tripoli. I live with my family and I enjoy life! My great passion is teaching and making friends from all over the world; learning and giving what I've learnt is the most important thing for me, and that's why I chose teaching as a job. Also I love going out with my friends and reading books in my free time.
Contact Wigdan: Wigdan.Zlitni@coloradocollege.edu
Office: Armstrong Hall Room 323, x6924
Office Hours:
---
This is the Department of French, Italian and Arabic
Browse all Departments & Programs