Tutt Science Building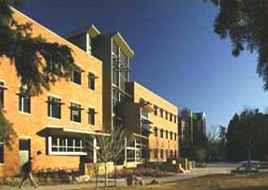 The Russell T. Tutt Science Center was planned to give departments more space and adequate laboratories for teaching and research. It is home to the environmental science, mathematics, psychology, and neuroscience departments, along with part of geology.
The building houses "smart" classrooms (classrooms with technology that integrates multimedia resources such as the web, PowerPoint presentations, video and DVD into teaching), faculty offices, a lecture hall, as well as state-of-the-art laboratories. The building also meets the Leadership in Energy and Environmental Design (LEED) criteria for green building standards which include the use of recycled waste materials, certain levels of energy efficiency, and even bike racks and outlets for electric cars. See below for a listing of the green building features of the Tutt Science Building.
Green building standards were developed by the U. S. Green Building Council to promote innovative energy and environmental design practices. The Tutt Science center incorporates 26 of 52 points as determined by the LEED system (Leadership in Energy and Environmental Design). These points include:
Sustainable Site
Indoor Air Quality

Re-used site
Reclaimed site (asbestos removal)
Close to urban transit
Bicycle friendly (shower in 322)
Alternative fuel site (electric)
Car pool parking
Erosion and storm runoff control
Heat island reduction (white pavement)

CO2 monitoring
Increased ventilation effectiveness
Air quality improved during construction
Low VOC paints, carpets, and adhesives
Chemical waste control
Operable windows
90% of spaces with exterior views

Energy and Air Pollution
Water efficiency

High energy efficiency
Wind generated electricity (off site)
No CFC's or HCFC's in coolants
Additional testing of systems and air quality

No potable water used in irrigation
Xeriscaping

Materials and Resources
Additional Environmental Features

Reduced use of chlorinated plastics: polished concrete versus PVC flooring.
Use of native plants in xeriscaping.
Materials reclaimed and recycled from previous buildings.
Steel stud construction so building can be recycled in the future.
Sunshades over west- and south-facing windows to reduce summer sun.
Window-air interlock that turns off the airflow from heaters and coolers if windows are open.