2020 Senior Celebration
Colorado College
Economics & Business Dept.
Saturday May 23, 2020 at 4:00 PM MDT
(6:00 PM EDT, 6:00 AM in Beijing,

and 12:00 AM in Paris)
---
Welcome and ConGRADulations Class of 2020!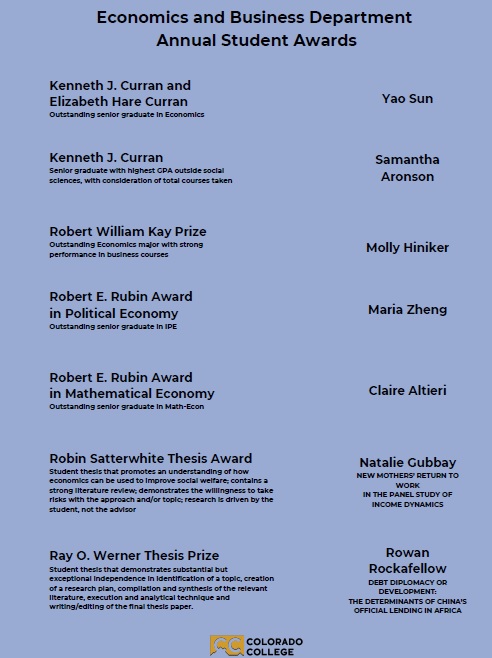 2019-20 Van Skilling Research Award Winners
Keller Mochel Tenzing Coburn Eli Kranefuss
Aidan Longhurst Jack Gu Elianna Clayton
Claire Altieri Hayden Cogswell John Koerner Emily Ng
---
CC Economics & Business Dept. Senior Celebration

Live Event Schedule

Share Registration for Live Event with Family and Friends to attend

(do not share or post in social media)

Time

Event

Live Event Directions

Log in at 3:30 PM MDT - Play Trivia!

Live Event begins at 4:00 PM MDT

Once in the event:

Attendees "raise your hand" to be promoted to panelist if you are a 2020 Graduate or a member of the CC Faculty or Staff so that you can be "seen on screen!"

Be sure to click on "Chat" at the bottom of your screen.

Click on "Participants."

Right click on the " ... " for more options

Click on "All Participants and Attendees" in order to see all "Chat" activity.

To see who is attending, click on "Gallery View."

Click on "Participants" for a list of names.

All who log in and have video will need to toggle on for audio and video

When hosts share screens "Chat" may automatically minimize, so you may need to reopen.

Friends and family will not be "seen on screen," but will be able to hear and view "Chat."

~~~~~~~~~~~~~~~~~~~~~~~~~~~~~~~~~~~~~~~~

Remember to plug your computer into your TV for a large amazing screen and shut off other pulls on you bandwidth.

3:30-4:00pm

Connect to live event via Webinar Link
Get settled, Play trivia


4:00-4:02pm

Welcome

4:03-4:06pm

Chair's Message - Dept. Chair Kristina Acri: "What it means to be an Economics and Business graduate"

4:07-4:10 PM

Guided Group Reflection

4:11-4:13 PM

Neal Rappaport: "Gratitude and Goodbyes

4:14-4:15 PM

Contests, Submissions, and Winners

4:16 PM

Time to Mingle!
---
Faculty Mingle

4:15 to 5:00 PM MDT

Remember to not publicize Mingle Links and/or post in social media.

These are for today's private celebration event only!

Parents, Grads, and Students are encouraged to "pop in and out" of Faculty Mingle rooms.

For our declared students who are attending but not graduating this year,

please give priority in Faculty Mingle to graduates.
---
Comprehensive Prize List:
| | | |
| --- | --- | --- |
| Contest | Prize | Winner |
| Random drawings from those who RSVP'd and show up on Saturday | AirPods Pro, Nintendo Switch, TV, or $250 towards CC gear | |
| Best poem Submission | AirPods Pro, Nintendo Switch, TV, or $250 towards CC gear | |
| Best video submission | AirPods Pro, Nintendo Switch, TV, or $250 towards CC gear | |
| 3 runner up prizes for video submissions | 3 - $50 Amazon Gift card | |
| Worst time zone at Senior Celebration | ​Roku Ultra | |
| 25th face on the screen at Senior Celebration | ​Portable Speaker | |
| Randomly given out on Saturday in smaller Zoom rooms | ​$25 Amazon gift cards | |
| 3 runners up prizes for poems/lyrics/verses | 3 - $50 Amazon Gift card | |
| Email me your favorite cocktail. | Bottle of Champagne | |
| 100th Chat in the Zoom chat during Senior Celebration | $25 Amazon Gift Card | |
| Email me your favorite food recipe. | Instant Pot | |
---