A QUIET WORK CONTINUES
Join Us for WES's 125th Anniversary
---
April 26, 2014 • Bemis Hall • 11AM to 3PM
In 1889, Mary Slocum, wife of Colorado College's third president William Slocum, founded the Woman's Educational Society. This organization was founded to support the growth of the college and any female students in need of "physical, intellectual and spiritual aid." Purposes that WES provides to this day.
By 1891, WES had raised funds to open Montgomery Hall, the first women's dormitory on campus, and with a host of volunteers and contributors over the years, continues as the oldest women's advocacy group at Colorado College.
Today, the WES constitution describes WES's purpose to be "to bring women of the community and The Colorado College together; to give assistance to the students of The Colorado College and from time to time to undertake programs and projects of WES's choosing that will benefit The Colorado College, particularly the women of the college." WES monitors finances, holds informative programs for members and works on fundraising, especially the Van Briggle Pottery Building tours and note cards of recent years. Focus is on the students, providing scholarships, sponsoring activities and mentoring them one on one.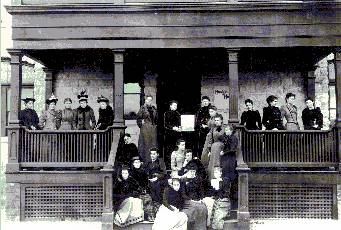 Campus Celebration Party: April 26, 2014
•
Bemis Hall
•
11AM to 3PM
This event will bring together past scholars and WES members from around the country.
A publication, A Quiet Work Continues: WES in Its Second Century, with color photos and articles covering events of the last 25 years, tributs to special members and a list of scholars from 1989-2014 will be available at the event.
If you have questions, please contact Ms. Sue Graham at 685-5717 or sgraham518@gmail.com
The Woman's Educational Society of Colorado College was founded in 1889 to help Colorado College students in financial need to pursue their educations.
A WES member today contributes to tuition and book allowances for 21 Colorado College women selected as "WES Scholars" for their achievement, academic and personal promise, as well as need. A WES member has many opportunities to interact with our scholars through WES social events (teas, receptions and luncheons), fundraisers (Van Briggle tours and campus tours), and campus activities (scholar athletic events, plays, and art shows).
A WES member who contributes money over and above the basic dues of $25 will be contributing to tuition and book allowances for 21 Colorado College women selected as "WES Scholars" for their achievement and academic and personal promise.