Down the Colorado (DTC) Expedition
Developing on the successes of our Source-to-Sea Expedition that occurred in the fall of 2011 and winter of 2012 (see below), the Rockies Project undertook another expedition in the summer of 2012: the Down the Colorado Expedition. Having witnessed the perilous state of the river basin firsthand in their first trip, our two fearless expedition managers, Will and Zak, set out once again to research the river up-close-and-personal. This time they set out to create a video narrative of the river, interviewing stakeholders along the river and producing a video episode series set to be released in the spring of 2013. For this journey they were joined by two other recent Colorado College graduates who acted as Rockies Project field researchers, and in addition to the videos they captured along the way, they took daily water samples to produce a dataset covering the Upper Colorado River. To visit the expedition's website, go to: www.downthecolorado.org.
Trailer for the upcoming DTC video episodes:
Powell to Powell: Portraits of the Upper Colorado (Trailer) from State of the Rockies Project on Vimeo.
Source to Sea
After hiking up into Wyoming's Wind River Range to the source of the Green River on Wednesday October 12, 2011, two Rockies Project field researchers began a journey down the length of the Colorado River Basin.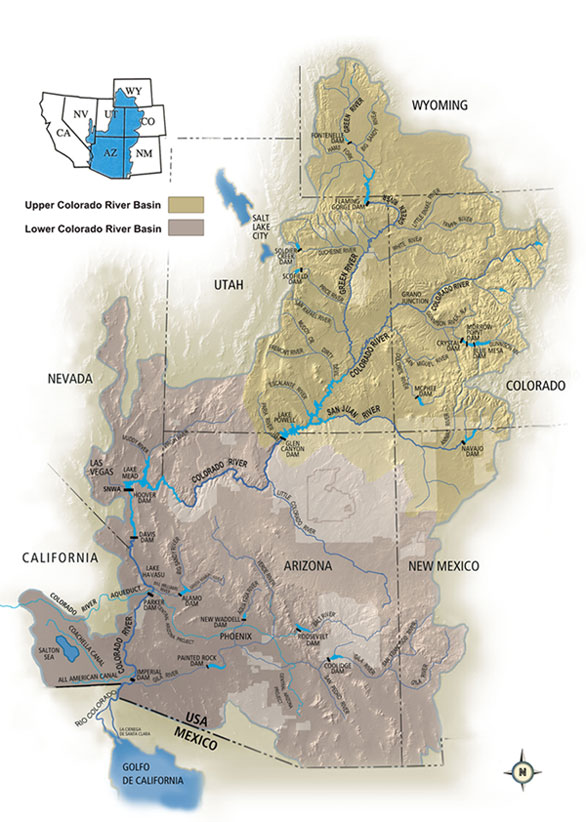 On January 29, 2012, they reached the Sea of Cortez. From portaging the numerous dams of the basin, to slogging through the remnants of the Colorado River delta, the two researchers reported from the field on the state of the basin. The two Rockies Project field researchers bring a personal narrative of the river they winessed to this year's Rockies Project- The Colorado River Basin: Agenda for Use, Restoration, and Sustainability for the Next Generation.
Explore the interactive map from last year's Source to Sea expedition with links to photos, videos, blogposts, and media from the trip:

Watch Trip Videos
---
Check out this video of Will and Zak discussing the state of the Colorado River Delta with Department of Interior officials. Will and Zak were on site at the Morelos Dam on the border of the U.S. and Mexico:
Past Expedition events:
| | |
| --- | --- |
| | Wednesday, October 24, 2012, at the Colorado Department of Transportation Environmental Training Workshop in Denver. |
| | November 7, 8, & 9, 2012, at the Upper Colorado River Basin Water Conference at the Water Center at Colorado Mesa University in Grand Junction, Colo. |
| | Monday, November 12, 2012, at 7 p.m. in Kroon Hall at the Yale University Forestry School Building in New Haven, Conn. |
| | Tuesday, November 13, 2012, at 6 p.m. in the Stone Science Building, College of Arts and Sciences, Room 453 in Boston, Mass. |
| | Wednesday, November 14, 2012, at the Kennedy School of Government as part of The Program on Conservation Innovation's Quarterly Internet Broadcast in Cambridge, Mass. |
| | Thursday November 15, 2012, at Massachusetts College of Liberal Arts in North Adams, Mass. |
| | Log Lunch, Kayaking the Colorado: Exploring an Endangered River. Friday, November 16 at noon-1 p.m. 78 Spring St, Williams College in Williamstown, Mass. |
| | Tuesday, December 4, 2012, at 7 p.m. in the Celeste South Theater of the Cornerstone Arts Building on the Colorado College campus, Colorado Springs, Colo. |