First Mondays Event Series
The First Mondays Event series is a campus-wide forum that aims to engage all members of the CC community, including students, staff, administrators and faculty. The series creates opportunities for the whole community to gather, encouraging everyone to be part of the intellectual life of the college, and facilitating discourse among students, faculty, and staff, across courses, disciplines, and divisions. An all-campus reception follows each event.
See the event streamed live (if it's currently happening) or see videos of past events.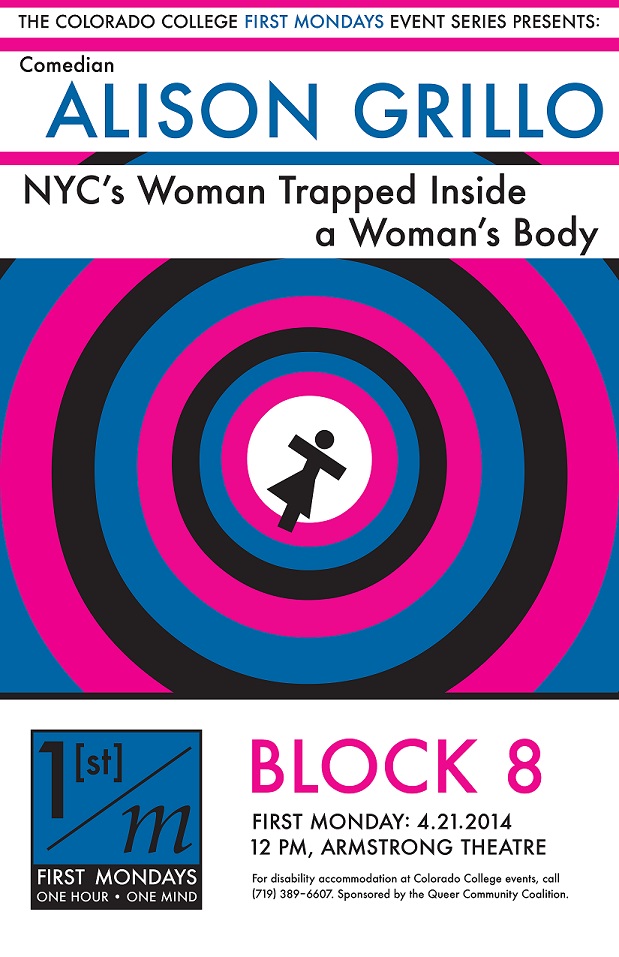 Next up on First Mondays...
NYC's Woman Trapped Inside a Woman's Body
Alison Grillo is a transgender comedian from New York City coming to Colorado College to make students laugh with her comedy act while also educating them on her experiences as trans-identified woman. This event will be coupled with a panel of Colorado College faculty and staff after Grillo's performance in order to delve more deeply into issues facing the trans community and ways in which CC students and community members can be allies. This First Mondays event complements QueerCC's "Gaypril" events, which hope to increase visibility of LGBTQ+ life and awareness of issues facing the community, especially members of the trans and drag community.
Artwork by Aaron Cohick, Printer, The Press at Colorado College
See other academic events on the Academic Events Committee page

First Mondays streamed live at http://www.coloradocollege.edu/live

Check out First Mondays on Facebook