Linneman Lecture Series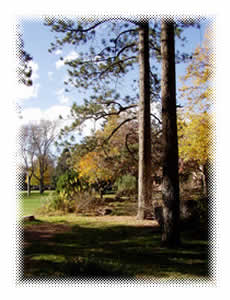 Timothy Linnemann (Class of '91) was a Biology major at Colorado College, an outdoorsman, environmental activist, member of the EnAct student group, and Greenpeace.
Tim spent the summer between his junior and senior year, 1990, at Berkeley, taking a course in genetics and then planned to work there the rest of the summer. On a trip to take his younger brother to look at Evergreen State College and Puget Sound University, their car rolled off the road in the Great Salt Flats in Nevada. Tim was killed, but his brother survived.
Several Colorado College friends attended the funeral in Cincinnati. While there, Tim's father discussed with them plans for a memorial fund.
Returning to Colorado College, Tim's friends planned a memorial garden, a quiet study area/outdoor classroom between Shove Chapel and Olin Hall, as a memorial to him. Andy Fahlund, Steve Miller and Kai Kauppi, among others, were instrumental in getting this project off the ground.
Dr. and Mrs. Linnemann established the Timothy Linnemann Memorial Lecture on the Environment with a gift of $100,000 "in memory of Tim's lifelong interest in the environment and his high regard for Colorado College." The earnings from the fund are to be used to bring in a noted environmentalist each year in conjunction with Earth Day.
List of The Timothy Linnemann Memorial Lecture on the Environment speakers:
Year
Speaker
Interest
2012

Winona LaDuke

Economics for the Seventh Generation: The Environment,

Economics and Thinking Beyond Empire

2011

Dr. Dan Chiras

The Monkey Trap: Can the Human Race Survive

the Human Race?

2010

Annie Leonard (Dec. 3, 2009)

Captain Paul Watson (April 22, 2010)

The Story of Stuff

Ocean Conservation

2009
Dr. Robert Bullard
Environmental Justice For All
2008
Dr. Edith Widder, Director of the Ocean Research and Conservation Association
Secret Lights in the Sea: The Underwater World of a Deep Sea Explorer
2007
Dr. Timothy Killeen, Director of NCAR
The Future of Planet Earth and Its
Inhabitants: Our Imperfect Crystal Ball
2006
Dr. Lyn Margulis, University of Massachusetts
Our Misnamed Planet: Evolution in this Watery World
2005
Dr. Wes Jackson, President of The Land Institute
The Necessity and Possibility of an Agriculture where Nature is the Measure
2004
Dr. Sylvia Earle: "Her Deepness",
Marine biologist, oceanographer
Sustainable Seas: The Vision, The Reality
2003
Dr. David Foreman: Founder of Earth First! and Director, The Wildlands Institute
Rewilding North America
2002
Dr. Vandana Shiva: Director, Research Foundation for Science, Technology and Ecology
Earth Democracy
2001
Mr. Andrew Fahlund: Director American Rivers
Restoring our Dammed Rivers
2000
Dr. Marilyn Waring: Professor, Massey University
Counting for Something –
Valuing the Environment
1999
Mr. Floyd E. Domini, former Commissioner Of the BLM, and Mr. David Wegner, Director Glen Canyon Institute
Drain Lake Powell??
1998
Dr. Carolyn Merchant: Professor of
Environmental History and Philosophy
University of California, Berkeley
Environmental History and
Philosophy
1997
Mr. Ed Marston: Publisher, High Country News
Public Land and Natural
Resource Issues
1996
Ms. Catherine Sneed: Director, The Garden Project
Agro-Economist
1995
Dr. Philip Fearnside: Professor, National Institute for Research in the Amazon
Rainforest Biology
1994
Dr. Helen Caldicott: Founder, Nuclear Policy Research Institute
Physicians for Social Responsibility
1993
Mr. Randy Hayes: President
Rainforest Action Network
1992
Ms. Winona La Duke
Native American Women's Network
1991
Mr. David Phillips
Earth Island Institute
This is the Department of Environmental Program
Browse all Departments & Programs