News & Events
Carl Reed's work showcased. The Denver Botanic Gardens will be highlighting the artistic work of twelve Colorado sculptors in an outdoor exhibit entitled "Catalyst: Colorado Sculpture."
Opening May 4 at 9 am and running through January 12, 2014, the exhibition showcases the work of artists Emmett Culligan, Kim Dickey, Linda Fleming, Nancy Lovendahl, Terry Maker, Robert Mangold, Patrick Marold, Andy Miller, Pard Morrison, Carl Reed, Yoshitomo Saito, and James Surls, in cooperation with Goodwin Fine Art, Robischon Gallery, and the William Havu Gallery. Supporting the exhibition are UMB Bank, Colorado Creative Industries, and the Scientific & Cultural Facilities District (SCFD).
Today we regard the work of participating sculptor Carl Reed, Professor of Art, Emeritus at the Colorado College, who has just completed a sculpture titled Water Ring with Outliers, consisting of three separate elements created and placed specifically for a site in the gardens.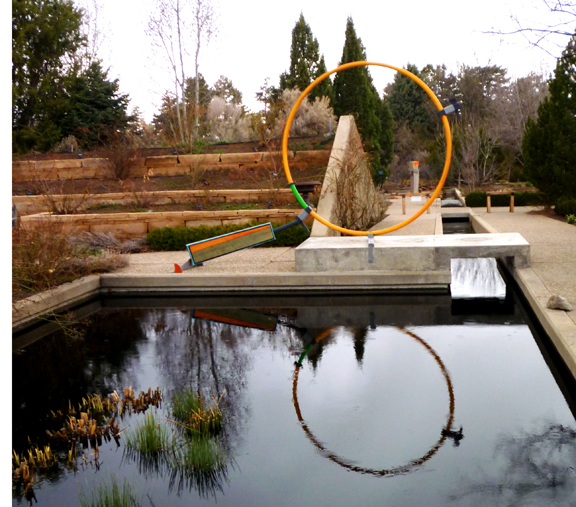 Check out the full article with pictures here
---
"Old World, New World: Collecting Hispanic Arts in the United States, 1900 to the Present"
Lecture by Michael Brown, Research Associate, New World Department, Denver Art Museum
Date: November 7, 2013
Time; 4:30 PM
Place: Screening Room, Cornerstone
Open to public, Free; ok to notify anyone. No podcast or videotape
Sponsored by the Art Department, Berg Endowment for the Arts and Southwest Studies
For more information contact Professor Rebecca Tucker rtucker@coloradocollege.edu
---
Andrew Ramiro Tirado: hōl
Now Showing in Coburn Gallery Through Mid-December


In part, the title hōl refers to the 'negative space; of a decades-long hiatus from creating art and the fullness that a more recent and unexpected return to it has meant for the artist. In part, it refers directly to the work itself, specifically the voids, holes, and 'negative spaces' that are just as important and interesting as the objects themselves. The work also speaks of the human experience and condition.

Gallery address:
902 North Cascade Ave
Colorado Springs, CO 80903

Sponsored by the Colorado College Cultural Attractions Fund.
This is the Department of Art
Browse all Departments & Programs